Andy has 20 images available from Elms Puzzles
Hand cut, one of a kind, ¼" thick 5 ply mahogany, heirloom quality wooden puzzles.
Click Here
to Purchase Your Andy Russell Wooden Puzzle! >>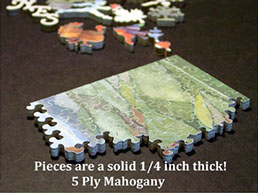 Andy Russell Wooden Puzzles make wonderful gifts for any occasion including holidays, birthdays, weddings, anniversaries and graduations. Each puzzle is carefully and individually cut by one cutter, one piece at a time, with extra thin blades from 5 ply mahogany plywood so no two puzzles are alike.